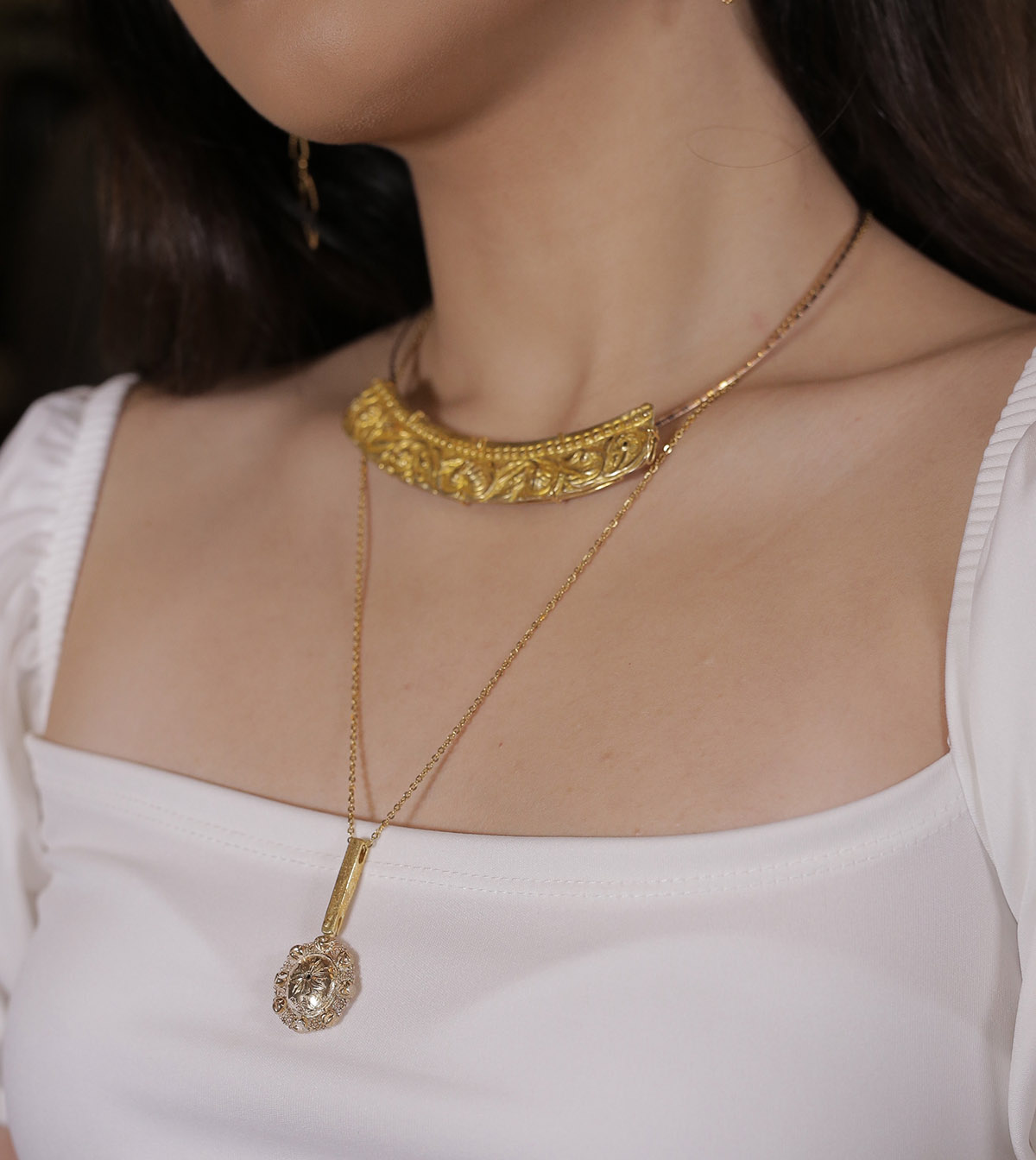 Payneta Collar & Little Tamborine Delight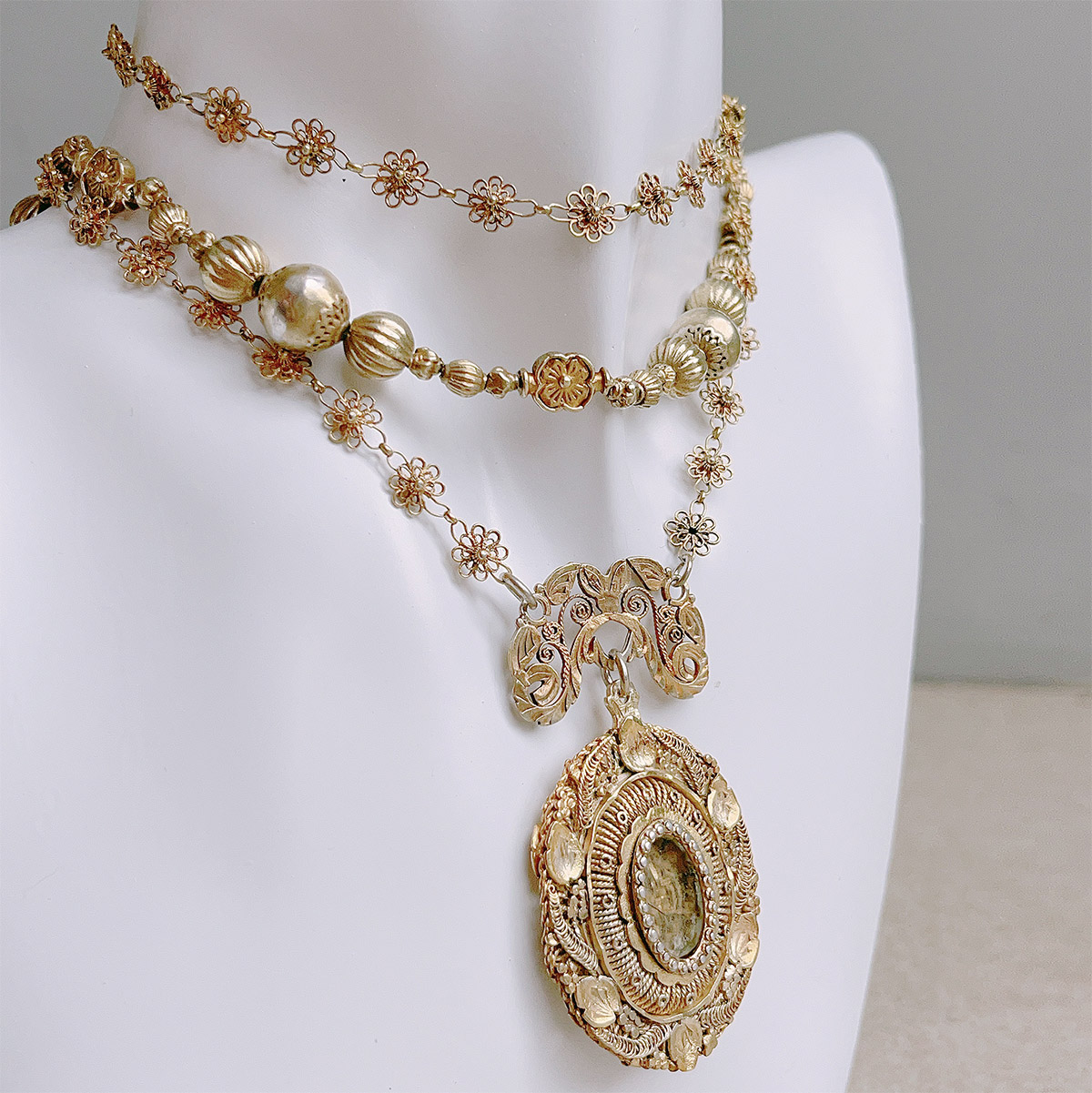 Interested in these pieces? Inquire here.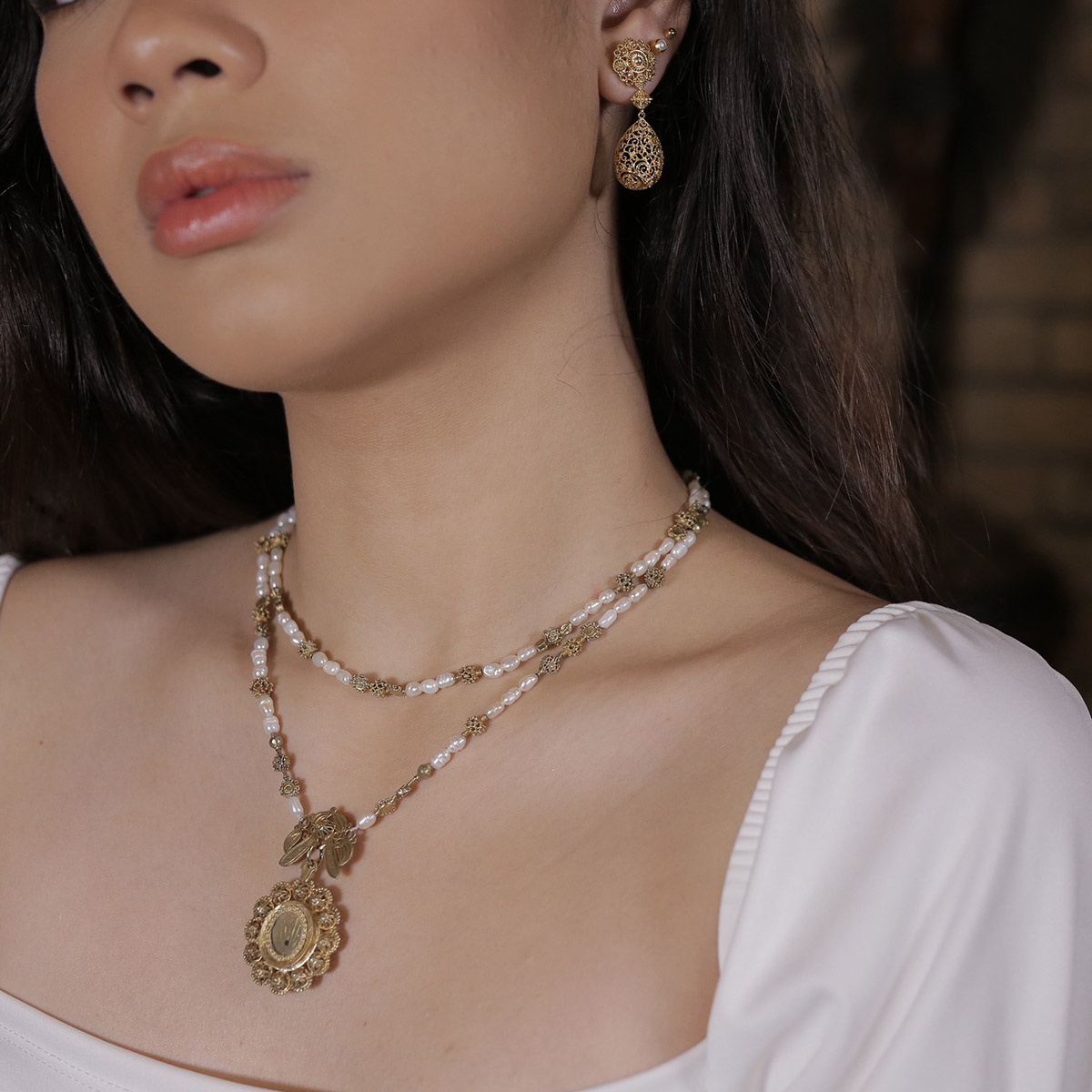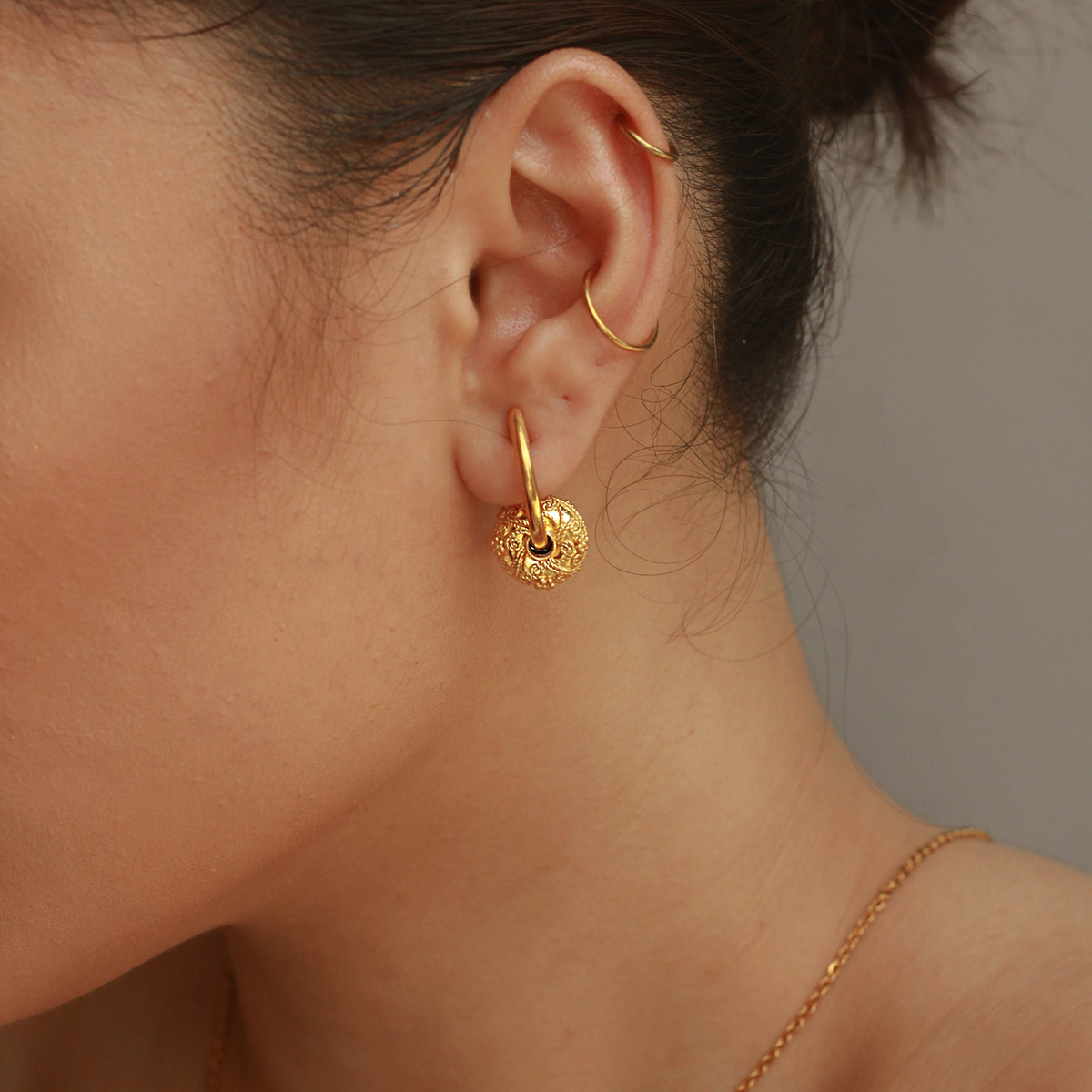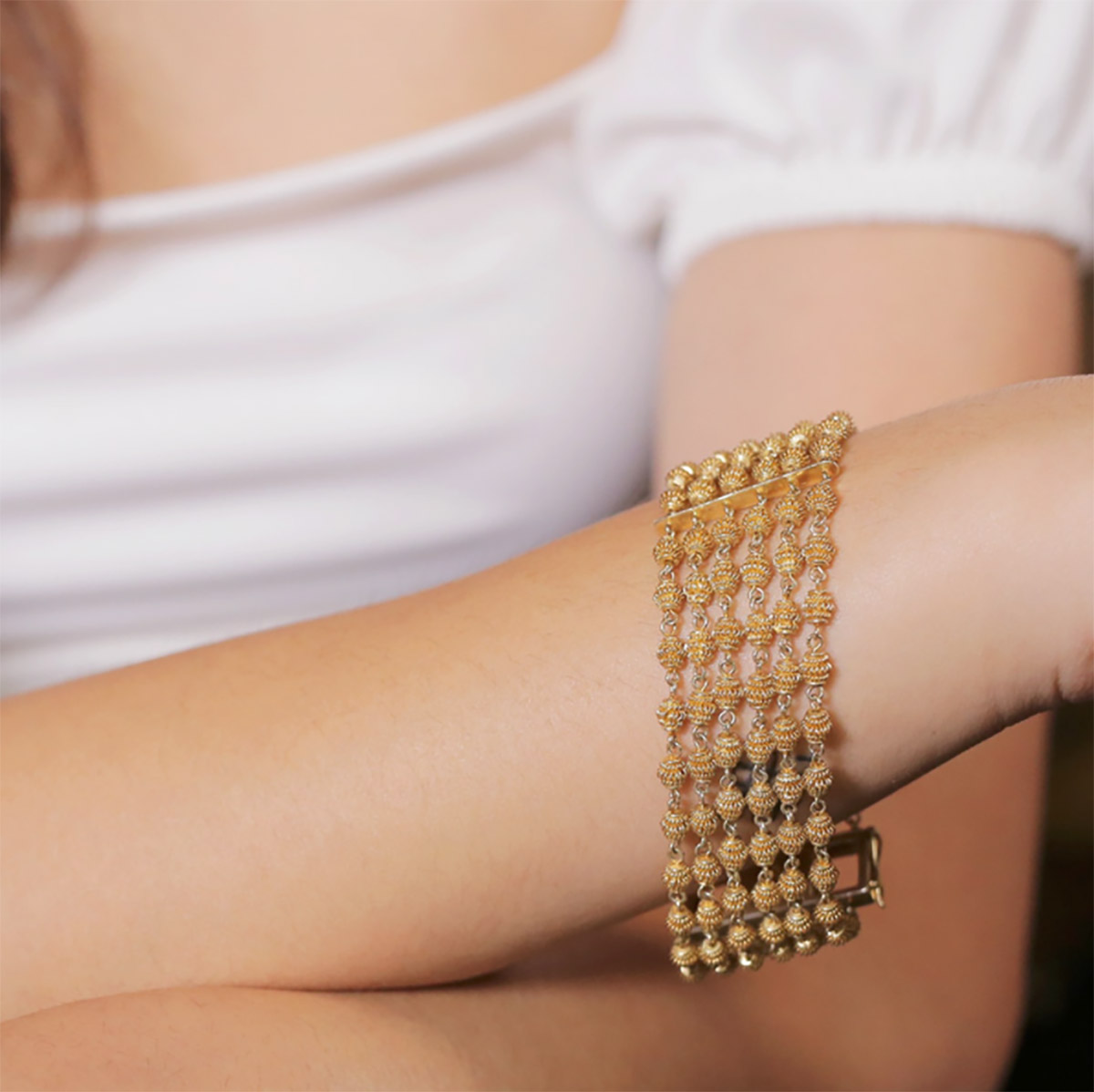 Filipino heritage jewelry pieces are precious treasures often passed down from one generation to the next. They connect us to a storied past full of history, meticulous artistry, and culture. These days, Filipino heritage jewelry artifacts are highly coveted by modern-day jewelry enthusiasts and collectors.
While it may seem like these pieces, so rich with history and bathed in cultural significance, belong in the confines of a museum, we like to think that there are a few foolproof ways that you can style these timeless treasures in the modern world.
Piece de Resistance
Although bold and intricate, Filipino heritage jewelry effortlessly brings a breath of class and life to otherwise unspirited ensembles. A Tamborine necklace, for example, can make a good statement piece during a formal event. It is best paired with any garment of solid color such as white, navy blue, or black to make its beauty shine as the piece de resistance of your look.
Nowhere to go? No problem. These classic pieces have a knack for giving just the right amount of chic to a casual outfit. Just pair it with a plain t-shirt or blouse, a pair of jeans, flats, and you're ready to take on the world in style. It is important to note that an outfit must have only one statement piece. Wearing too many statement pieces at a time will just make the outfit look cluttered and confusing.
Do some layering
If you're a fan of wearing multiple pieces, then we have the solution for cluttered looks for you. Layering Filipino heritage jewelry can surely elevate any look.
Tamborine necklaces are a charm to layer. These pieces are made of detailed beads and even more detailed pendants. With this in mind, the layering of 2-3 pieces creates a look that is both suitable for any daily outfit, elevating basic clothing pieces, and for nighttime, an easy match for those classic solid color dresses.
TIP: Some Tamborine necklaces are made with long chains. If the chain is long enough, twisting it at the back and using it as a choker gives a seamless layer style that is easy and accessible.
There are two ways that we love to wear tiered necklaces: with a low-cut V-neck top or a turtle neck. The v-neck option allows the beautiful shades and details of the necklaces to contrast your natural skin, lending some warmth to the pieces. On the other hand, the turtle neck gives a gorgeous background to the pieces and gives them a chance to shine.
Make them complement each other.
When dressing up and accessorizing an outfit, the goal is to make the jewelry and the clothing complement each other. Perhaps you own a pair of Criolla earrings. Its delicate features will best work with a printed top or dress for a very fresh and fashionable look. On the other hand, when using big statement earrings, it is best to go with a plain top or dress. You want to enhance your outfit's focal point and make people appreciate the beauty either of your dress or your jewelry. Balancing is key.
Bring old pieces to life by recreating them.
While some Filipinas opt to maintain their Spanish-colonial jewelry in its original condition, others choose to have their pieces recreated to be more current in today's fashion. An example would be the Payneta. What was once a decorative comb used to adorn a woman's hair has now found new life as a part of modern-day necklaces. One will often see stylish Filipinas proudly wearing their reimagined Payneta neckpieces with otherwise simple outfits. Elaborate Payneta hair combs have inspired other forms of jewelry such as earrings, necklaces, and more. These innovative earrings are versatile enough to be worn from day to night. They are also ideal for both casual and formal occasions. The cultural relevance and intricate nature of the Payneta make it such a unique addition to one's jewelry collection.
Don't shy away from arm candy.
Sometimes bracelets are over looked. These pieces are often such beautiful accessories when you find the right one to cascade down your arm. Though many focus on earrings and necklaces because it pulls focus to the face, some outfits just call for a beautiful bracelet instead.
Know when (or when not) to wear a necklace by checking on your top's collar. If it already sports a buusy design, it might be best to wear a pair of simple earrings and dress up the look with a bracelet instead.